Smile & Travel
Planning to visit Romania and going back with a beautiful smile and natural teeth for life?We can provide that at our hi-tech dental clinic. In the hearth of Bucharest , Cadtech Dental concepts have been providing a full range of cosmetic and general dental service from a highly qualified and dedicated team which speaks your language and is committed to keep up to date with latest technology and techniques.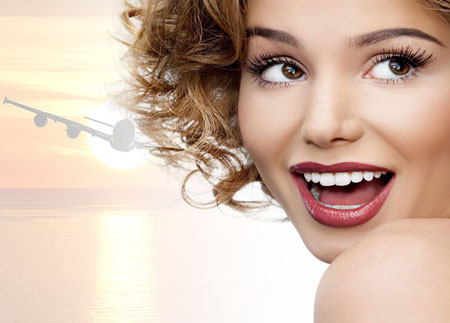 Dental Tourism Details

Patient Comfort
For generating a long term relationship between the doctors and patients ,our number one priority is our patient's comfort and well-being. We make sure each patient enjoys complete privacy and also benefits of treatment priority according to their needs. We are experts when it comes to pain management and anaesthesia, and we aim to ensure that no patient experiences discomfort during any dental visit. Our comfort management tools are designed to prevent pain and relieve treatment anxieties so that you will be totally comfortable during any specific procedure that a patient should require/desire. Our sterilization is perfectly managed by using the latest autoclave models, ultrasound precleaning and disinfecting agents.
---
Facilities
Beside our 3 unit clinic,founded in 2006 by Dr. Ramona Dimitrescu-Luca , we own a dental laboratory equipped with the latest Rolland milling machines for Zircnonia ,ceramics and Pmma,operated by the most appreciated dental CAD-CAM softwares,ensuring control over the manufacturing process and timing. We are using the best quality zirconia,manufactured in Germany and Japan,totally complying with any EU regulations. We pride ourselves in creating ultra-realistic Crown, Bridge and Implant work, which is virtually indistinguishable from the natural teeth of each individual patient. To this end, we make wide use of detailed shade and character matching, combined with digital photography of the Patient's natural teeth.
We have a 100% success rate in providing an efficient, personalised high quality service.
Before/ After Treatment :

---
Before starting a treatment, after diagnosis, a patient goes through the contract, where every step of treatment process and possible complications are discussed in detail. Since health conditions of every patient are different, each contract will be individually tailored to every patient. After treatment ,the recall ( 3/6 months examination , check-up and scaling ) is free of charge.
After taking care of your smile , we can also provide Hialuron Fillers for the perioral area and lips to achieve a perfect and complete makeover. We can guarantee that our services will meet the highest requirements a person can have. Our target will be to make you forget about your treatment while you enjoy the beauty of Bucharest and with so many positive feedbacks we know that we are achieving our goal!
Accommodation & Bucharest Visitors Guide:

---
Cadtech Dental in colaboration with Rembrandt Hotel is offering you best price package for your stay. Rembrandt Hotel is located in the old town area of Bucharest.You can visit by foot the House of Parliament , Contemporary art Museum ,and many other attractions.If you find Rembrandt hotel pleasant , you will enjoy a 20% discount on your stay.For other special inquiries (family packages , large groups , long stays) don't hesitate to contact us.
We also have partnership with a licensed city tour - country tour private guide.While your doctor takes care of your dental treatments , you will explore the beauty of an undiscovered attractions of Bucharest, or eaven spectacular mountains landscapes , cultural haritage , and traditional lifestyle of Romania.
We will plan together the sightseeings depending on your dental treatments schedule.
---
Book an appointment online :

We provide free consultation services online regarding your dental status and treatment options.Wanting to make it easier and faster for the patient , we developed the "upload"system.Send us your X-ray if you have one ,so we can start to make an evaluation of the future treatment plan.

Additional Services :

Free checkup and consultation services
Free oral exam
Free transportation from airport
Free transportation from hotel to the clinic everyday
Free Wifi
Free Drinks/Beverages provided during sessions
Free local prepaid mobile number to keep in touch with you 24/7 during your stay
Skype Conferences
---